Going fishing can be a fun and rewarding experience for the entire family, so it's important to make sure that the kids are excited about it before you go.
There are plenty of ways to get the kids excited about going fishing, and with a little bit of planning, you can make it an enjoyable experience for everyone. Here are a few tips and activities to get them pumped up and ready to go catch some fish!
When not around water, you can still put a fishing pole for kids in their hands and let them play casting games. Below you can read more tips for when you want to start at home, especially by utilizing your yard.
Build a miniature fishing pond in the backyard with some small plastic fish and use a stick as a fishing rod.
Let them practice casting in your yard. You can place hula hoops on the ground for them to target.
Check out YouTube for some funny fishing videos, watch a family-friendly fishing movie like The Littlest Angler or A Fish Called Wanda. You can also download movies, clips, or shows where their favorite cartoon or movie characters are fishing.
Bring your old dusty equipment downstairs or to the garage and let your children explore it. That will help their newfound curiosity run wild.
Make homemade bait (like dough balls or corn kernels) and let the kids help you prepare it.
Take a virtual tour of a fishing lodge or aquarium or go to a venue that has an aquarium or fish tank.
Take them to fishing seminars or camps designed for children where they can practice fishing skills hands-on. Stay with them if you can so you can also learn in case you are not an experienced angler.
Watch fishing videos together, there is so much to learn!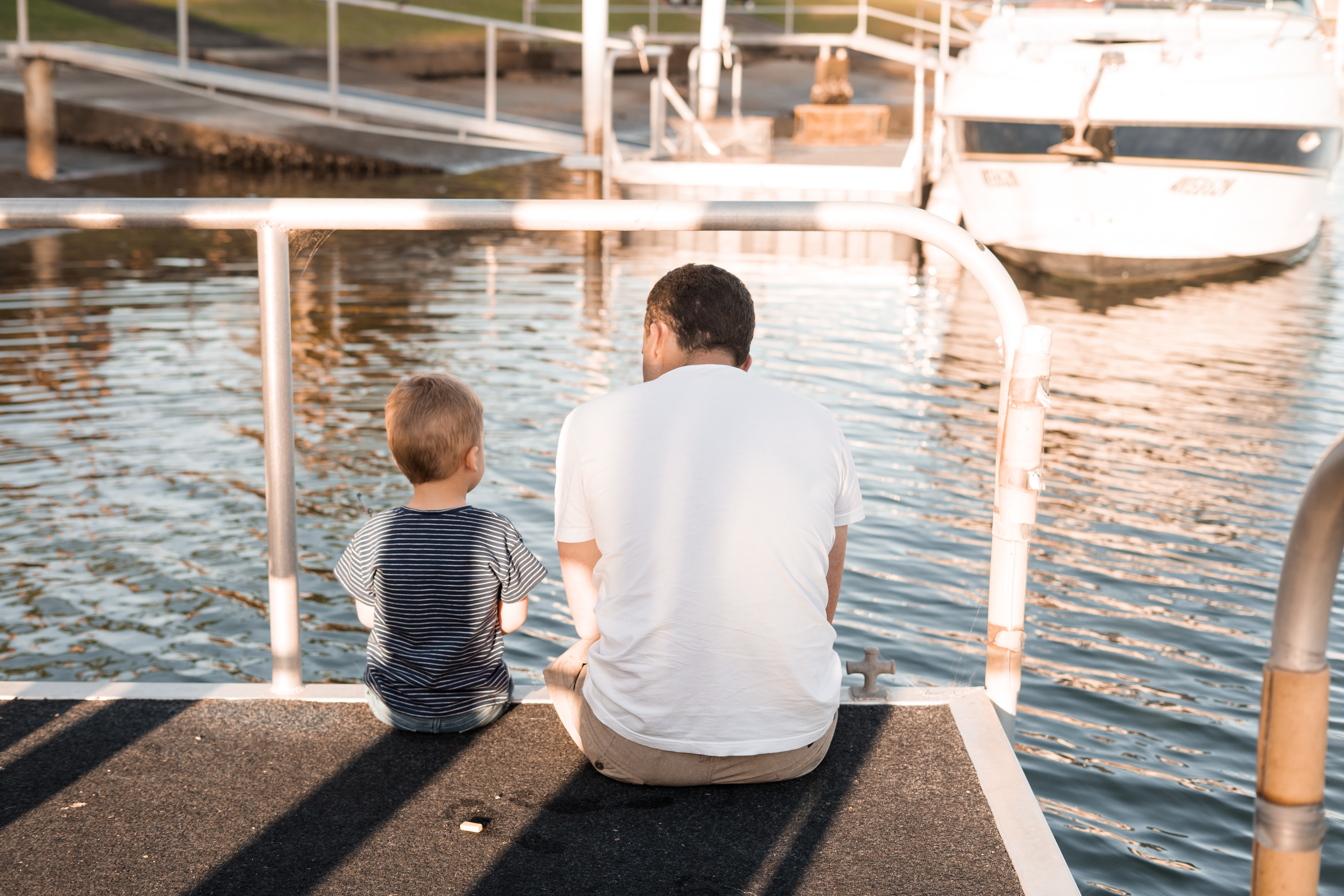 If there is a fishing dock near your home, take the kids for a walk and let them check out all of the different kinds of fish that live in the area.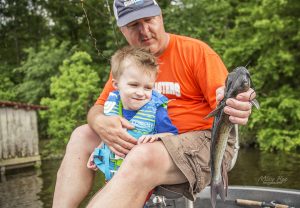 Go on a fishing trip together. This is a great way for kids to learn about the sport of fishing and see how fun it can be.
Pack a picnic lunch and spend the day fishing at your favorite spot. Take them to a place where they can release the fish they catch back into the water and tell them why. Demonstrate how to properly release fish so the fish to increase its survival. Or, fish where you can keep fish and enjoy it for dinner.
Take a trip to a local bait-and-tackle shop so the kids can see all of the different kinds of fishing gear.
Take them to a fishing and boating event so they may see all of the fantastic gear and activities available.
Let them catch their own fish. Kids love feeling like they accomplished something, and catching their own fish is a great way to do that.
Remind them that fishing mistakes are a part of learning. Teach them how to watch for line wrapped around the rod tip or the spool, how to prevent, how to fix. Discuss a bird's nest for line, how it happens and how to fix it. If using a spinning reel discuss how reeling against the drag causes line curlies and how to fix line in that case by letting line out on the water with no tackle at the end to get the curlies out.
Teach them how to bait their own hook, to keep them entertained while you're waiting for a bite.
Let them touch the fish to learn how to handle it and relieve their apprehension.
Buy them a new fishing rod or tackle box as a special treat.
Have a plan to keep them engaged when fish are not biting. Give them a job, such as looking for working birds or signs of fish. Let them practice their casting, lure retrieval or tying fishing knots. Show them the parts of the rod and reel and where to put the hook on it when putting the rod back. Quiz them on different kinds of fish and what they eat. Have some jokes handy. Discuss why the fish may not be biting to help them understand that fishing is not always catching – it is the experience that is most important. One day you may be a zero, the next a hero.
Tie a small bucket at the end of the line, let it out in the water and let them practice reeling so they are prepared if they get a heavy fish. Show them how to pull up to get the fish closer, then reel in as the rod is lowered a bit to keep the rod always bent when a fish is on. Tell them why the rod should always be bent to keep pressure on the fish. A slack (straight) rod means no pressure and the hook can get out of the fish's mouth. This is better for boat fishing.
Teach them how to guide a heavier fish into a landing net or gaff. You can tie on a sinker for them to practice. Advise them to keep the fish in the water.
Take photos of them and their catch for them to share with their friends. Best photos can be submitted to your local fishing magazine in high quality to give them something to brag about.
If you can, let them invite a friend so they have someone their age to talk with and learn together.
Avoid taking them out when the weather is not good to prevent a bad experience.
The most important thing is to get creative and have fun with it. With a little bit of creativity and effort, you can get the kids excited about going fishing and make some great memories while doing it – after all, that's what fishing is all about!
By following these tips, your family will have memories that will last a lifetime! What are your tips for getting kids excited to go fishing? Share them with us!