If you're planning on going angling, it's important to dress for the occasion! You'll need clothing that can protect you from the sun and keep you warm in case of bad weather.
We'll cover everything from hats and sunglasses to jackets and boots! So, whether you're a beginner or a seasoned pro, read on for the perfect angling wardrobe!
Best clothing options for your next angling trip
What to wear when angling? Mostly, it depends on the weather condition. But there are some general guidelines to follow no matter where or when you fish.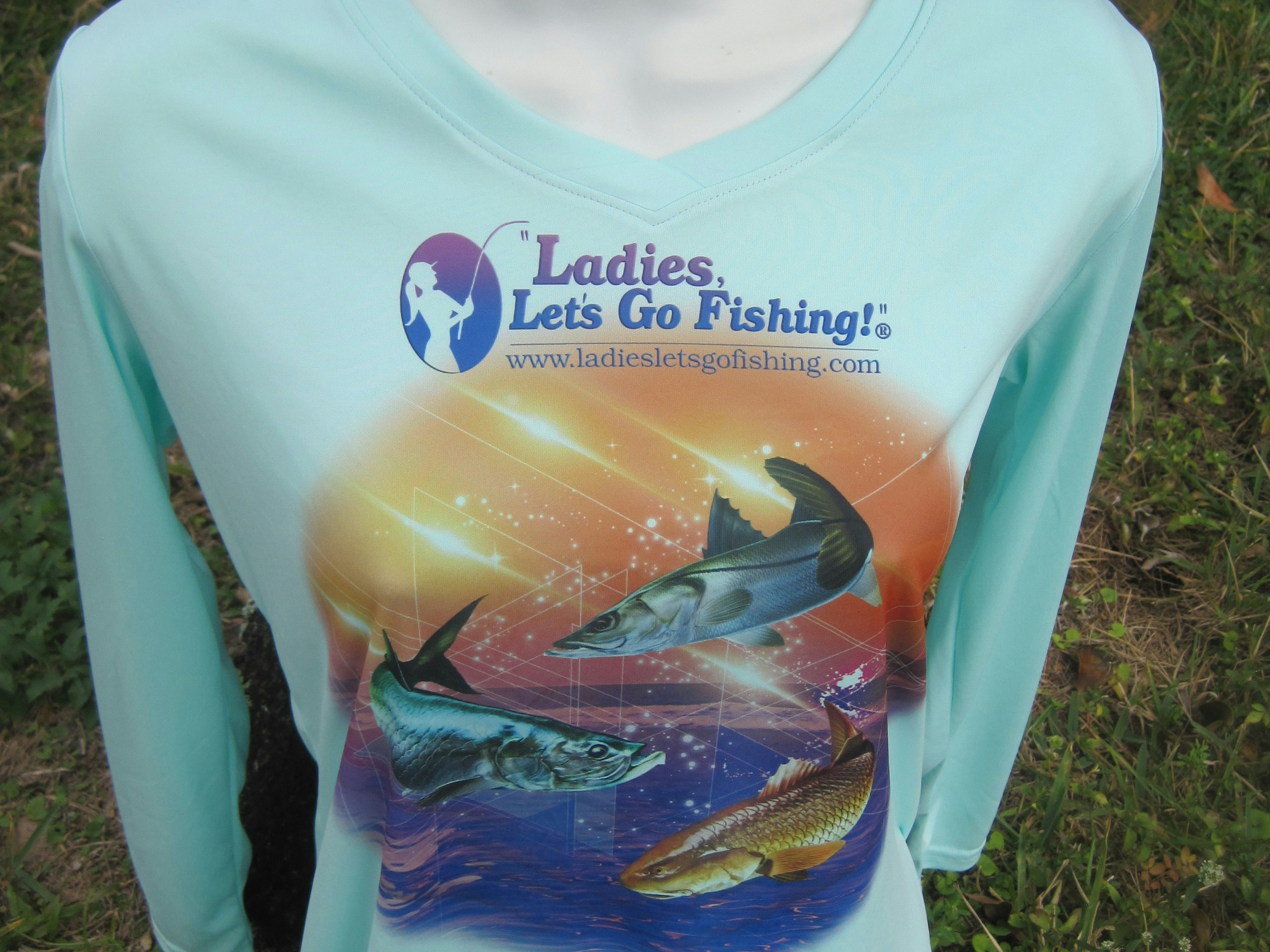 Credit: Ladies, Let's Go Fishing
Warm weather
When you're out fishing, you'll want to be sure to wear clothing that will protect you from the elements. The sun can be extremely harsh during warm weather, so it's important to wear clothing that will protect you from the sun.
Hats that provide shade for the face and some designs even offer protection for the back of the neck.
Long-sleeved shirts and pants will help keep your skin from getting sunburned.
A rain jacket is also a necessity, as the weather can change quickly and you don't want to get caught in a downpour! If it is windy, even with no rain, bring one anyway as you can get soaked from the wind blowing water onto the boat sideways. An umbrella gets in the way on boats, bring a rain jacket.
Cool and vented type of clothing for hot weather that can pull the moisture away from your body. In hot weather, areas choose microfiber quick-dry materials. Cotton or jeans do not dry quickly. Be prepared to layer up or down as it can be cool in the morning than hot in the afternoon. A button-down long sleeve performance shirt with a button on the shoulder area of the sleeve to convert to a short sleeve is helpful.
Another tip to prevent heatstroke that works well with microfiber materials is to pour cold water on your shirt or pants to keep you cool.
If you'll be fishing in a boat, remember that the reflected sun can be just as harmful as direct sunlight, so don't forget to apply sunscreen to exposed skin.
Cold weather
In cold weather, dress in layers so you can adjust to changes in temperature. Keeping body heat is critical to survival when out in cold weather.
Start with a base layer of thermal underwear to keep your body warm. Add a middle layer of fleece or wool for insulation, and top it off with a waterproof jacket.
Don't forget to pack a pair of gloves and a scarf to keep your extremities warm!
Hand warmers
Keeping feet dry with waterproof socks,
and even a change of dry clothing.
Don't forget to wear boots or shoes that can get wet – you never know when you might have to wade through a stream or water is poured on deck to clean that gets feet wet!
GOOD FOR BOTH HOT AND COLD OUTINGS
Neck Gaiters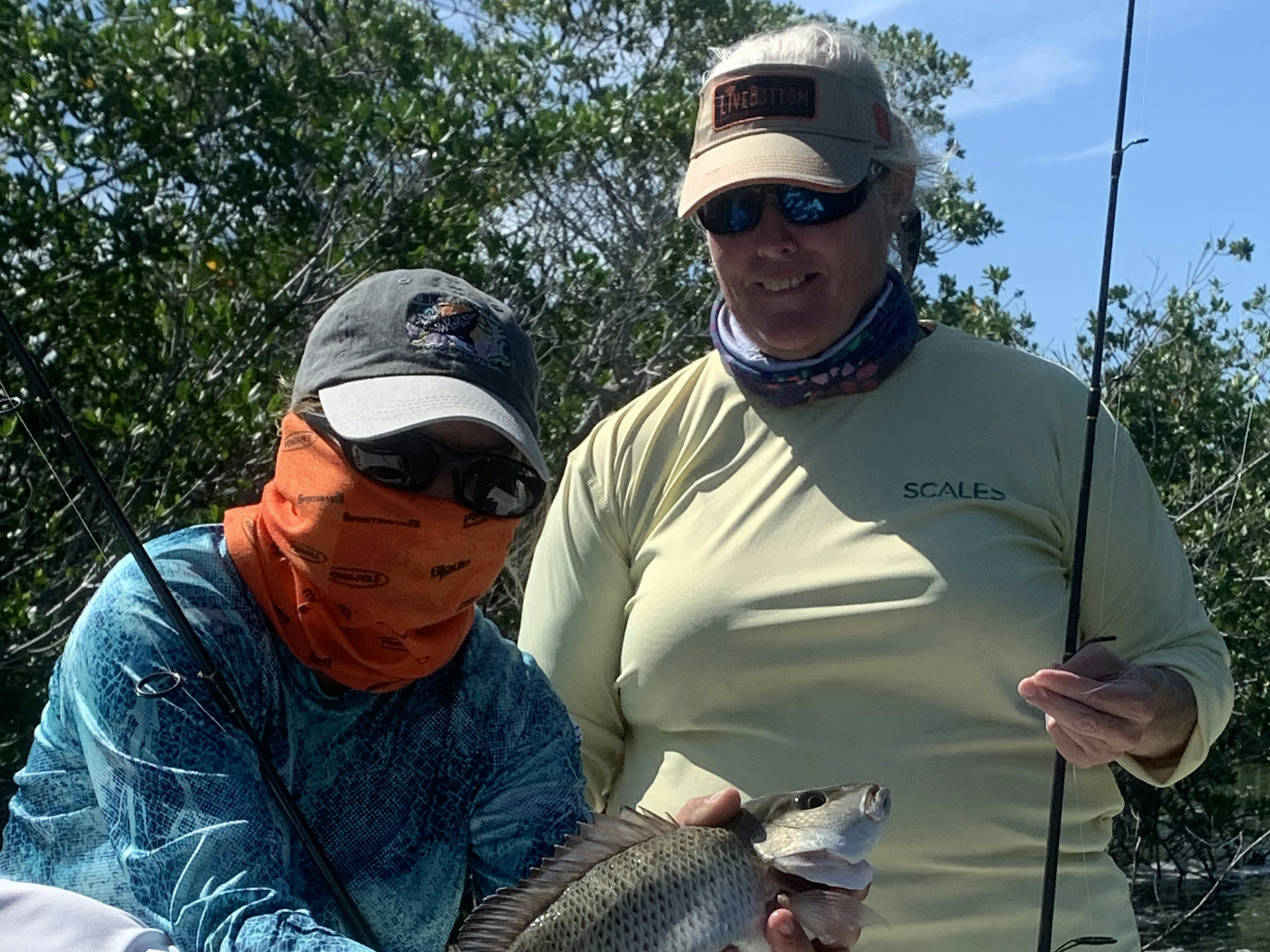 Credit: Ladies, Let's Go Fishing
A neck gaiter is a piece of cloth worn around the neck. It can be used for warmth, sun protection, or style. Neck gaiters are often made from synthetic materials such as polyester or nylon. These are great for keeping the sun off your neck and face. Consider bringing a second one (or elastic headband) to place from the back of your neck over your hat brim to keep your hat on in windy conditions.
Neck cooling wraps
A neck cooling wrap is a great way to stay cool while fishing. It's a simple piece of cloth that you wet with water and then put around your neck. The evaporation of the water will help keep you cool for hours.
They are especially helpful in hot weather, but can also be used in cold weather to prevent heat loss.
Waterproof Windbreakers and Hoodies
Rain and moisture are always a threat, and the sun can be harsh in both hot as well as cold weather. Waterproof windbreakers and hoodies are just the right things to keep in mind.
Footwear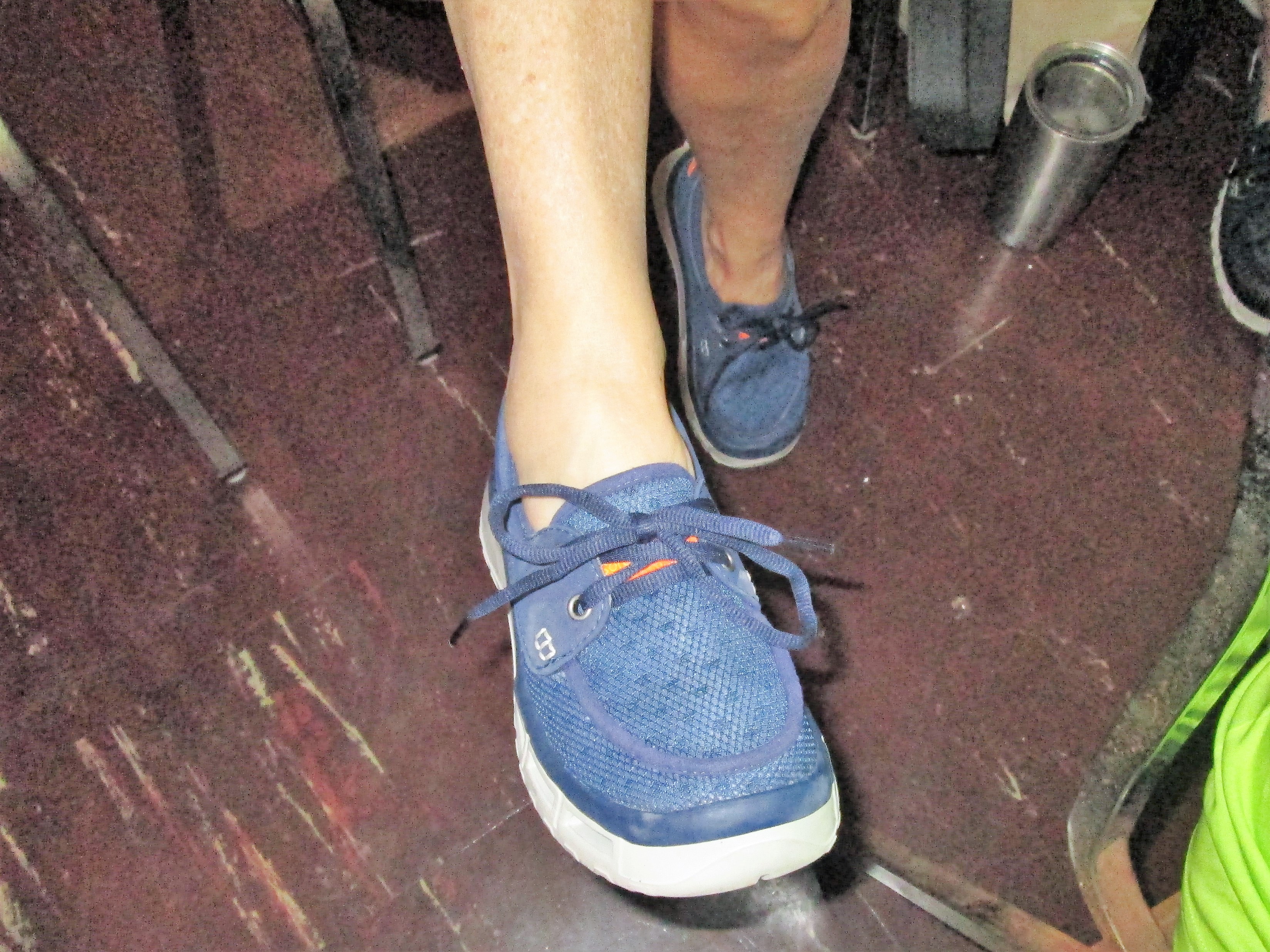 Credit: Ladies, Let's Go Fishing
For footwear, you'll want to choose something that can get wet without ruining it, like tennis shoe types designed to get wet or rubber boots.
Or Crocs or Tevo-styled sandals. Flip flops aren't the best as when wet you can slip.
Boots are another essential piece of clothing for fishing trips. Choose a pair that will protect your feet from the elements and keep them dry.
Waders are a good option if you're planning on wading into the water.
Life Jacket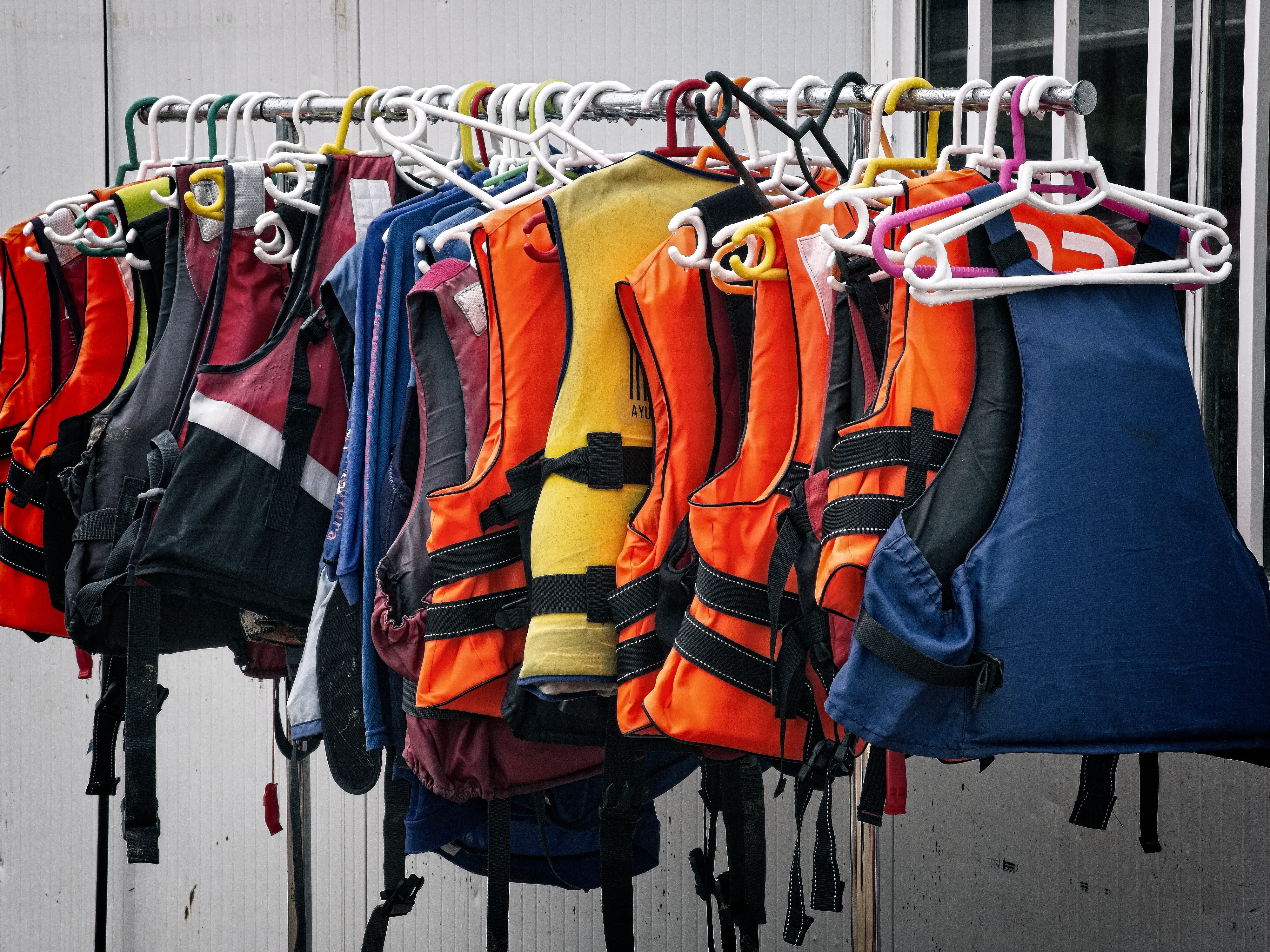 And of course, don't forget your life jacket! It could save your life if you fall into the water. It's essential for safety, so be sure to choose one that fits well and is comfortable to wear.
Life jackets come in many modern styles and may some designs are made for all-day wear on the water. There are light life jackets with a device that automatically deploys to inflate should the person fall into the water. The cartridge needs to be replaced to deploy again in the future.
Sunscreen
No matter what time of year it is, always remember to pack sunscreen! Apply it generously all over your body, and reapply it every few hours to prevent sunburn. Not all sunscreens are the same, remember to pack sunscreen with an SPF of at least 30.
Polarized sunglasses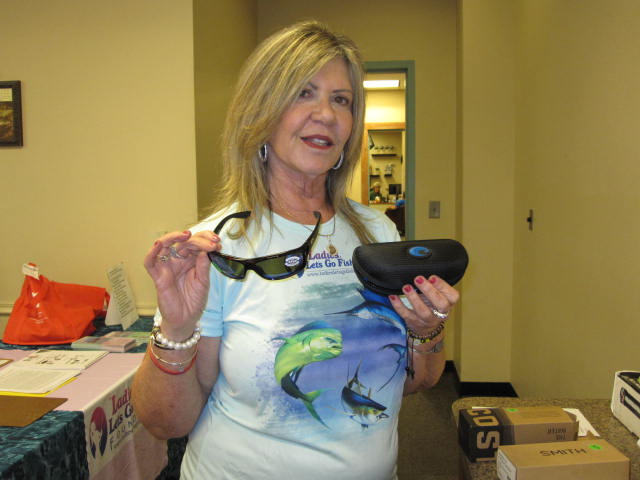 Credit: Ladies, Let's Go Fishing
No matter what the weather is like, it is good to always pack a pair of polarized sunglasses. They'll help reduce glare so you can see into the water to spot fish. Polarized sunglasses cut UV rays, cheaper over-the-counter glasses do not.
And don't forget your camera 📷 – fishing trips make for great memories!
So there you have it – with these tips in mind, you'll be sure to have a successful (and comfortable) fishing trip! Be sure to dress for the weather and pack all the essentials, and you'll be ready to reel in some big catches!
Do you have any other clothing suggestions for fellow anglers? Let us know in the comments below!